After seeing
Marlene's
needlefelt bears, I had to order myself the kit and try this out. I've managed to finally get my bears head finished tonight. Isn't he a cutie. I can't believe I made him...yes, him. I think it looks like a boy bear. I think maybe I'll have to crochet him a hat, or something.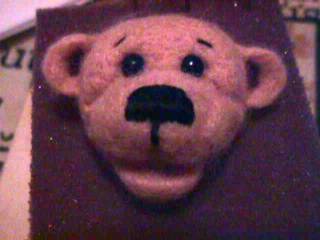 I also have the Fiber Trends pattern for the sheep tote that requires needlefelting and I can't wait to apply this technique to knitted felts. Should make for very interesting creative expression. I love it!
Also a big thank you to all who complimented my shawl. I loved knitting with the Zephyr. The wool became even more beautiful after a soak and blocking.
I bought both the
pattern
and Zephyr
here
, at Four Seasons Knitting if anyone is interested in making one themselves. The pattern is also adaptable to other yarn weights as well.
Enjoy your weekend and happy knitting!