The following may cause severe astonishment. I am not responsible for monitors or keyboards, or anything electronical that may be damaged due to spewing of coffee, tea, or any other beverage on any said equipment.
Are you ready? Brace yourself.
I have in my possession, 90 50g balls and 3 100g balls of sock yarn.
That's enough to make 48 pairs of socks.
Okay, you can close your mouth now.
Do you think I hold a world record?
I think I need help. I wonder if there is a hotline I can call? Sock yarn horder's of Canada, or some-such.
To top it off, I didn't work on my Camelot socks at all. Now talk about feeling guilty!
I didn't do much knitting at all this weekend. Too busy running around, getting errands done. I did try to fix the snag on my Field of Flowers shawl on Sunday night, to no avail.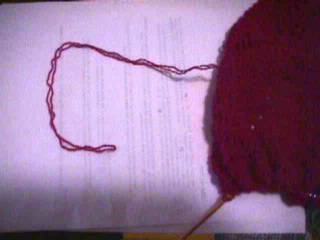 It's a really bad pic (its been very cloudy here) but, I'm sure you can see my dilemma. I'm going to finish the edging, then see if I can manipulate the snag back into the shawl. If worse comes to worse, I'll have to snip it and weave it in.
I did get myself a new, larger, much needed knitting case. Let me just say that Black & Decker isn't just for screwdrivers and drill bits. I love it and it is much larger than my old one, which my daughter has claimed for herself and her toys.
It even has neat little compartments on the top for my little notions. They slide out, so I can just bring the little case to my work station, A.K.A. dining room table.
It has two layers. This top layer has great separated compartments to hold my other notions.
And the bottom holds all of my circular, straight and double point needles, with alot of room to spare...how great is that? I'm very happy with it.
My tool box is always well organized and tidy. My yarn, well, that's an entirely different story. I have baskets, plastic tubs, etc...everywhere. Sigh, it's hopeless. But, hey, I'm happy!