to
Curly Girl
for sending me some of her great wool roving, a card and a little sweet treat.

It's wonderful and I can't wait to play with it...after all the baking and wrapping, of course. [g] Thanks again.

As you can tell, I revamped my blog...again. I did it at 3 a.m. Sunday morning. I was too tired, yet couldn't sleep, so decided to sit and just click here and there and this is what I ended up with. I hope you like it.

I received the order I placed last week for Noro Kureyon and Noro Silk Garden today.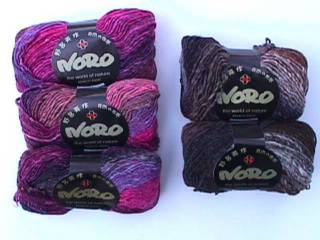 Remember my to do list? Well, the Kureyon #55 on the right will be used to make my dog a new sweater and the Silk Garden #205 will be used to make the multi-directional scarf. I've never knit with any Noro yarns before and I'm looking forward to it. After I finish my Ribby Cardi of course. Here is my progress, so far...





Yes, I became impatient and when it was time to start another skein of yarn for the sleeves, I decided to just finish off the one sleeve, so I could attach it and see what it would look like. But, before that I became impatient to sew in the zipper...you see, I never installed a zipper into one of my handknits before, so I just had to do it as soon as I bought a zipper. Aren't I terrible?

The other sleeve looks like this...





I'm really hoping that I can complete it by Friday. Wishful thinking on my part? I hope not. I would really like to wear it to the family Christmas gathering this weekend, even though I've been so busy, chasing my toddler daughter, baking, wrapping gifts and entertaining, but I've never felt better...now that the shopping is out of the way. I think I've gotten spoiled with online shopping and not having to deal with crowds and to put it delicately, uptightness. It's the only thing that dampens my mood during Christmas.

Anyway, wish me luck and happy knitting!