Finally! I had some major computer issues that started yesterday...so far, I've managed to get some decorum here, but things still aren't as stable as I like. It has put me in a #*&@! mood.
Now, on to knitting...
Here is Mariah in all her glory.



As you can see, the sleeves are quite long, but I'm one of those that always pulls sleeves over her hands in the winter, so this doesn't bug me at all. I'll tell you a little secret...I did throw her into hot water, gave her a little agitation and then a shock of cold water hoping to shrink her a bit. It did help, but it's still very baggy on me...it can't be too bad though, considering I wore it all last night and today. Yes, it is my comfy cardigan...yes, I hope to make another in a smaller size. Now that I know the process, it'll be easier to make any adjustments.

Right now, I'm concentrating on Zigzag. This pic shows a much truer colour.




I'm enjoying knitting Zigzag, but it needs alot of my concentration. I've only done 6 inches out of 15, so far.

Which is why it is nice to have some mindless knitting on the needles. Here is the progress on my Socka socks...actually, I finished this sock, but I didn't get a chance to get a pic of it yet. [snicker] I really like the colourway of this yarn.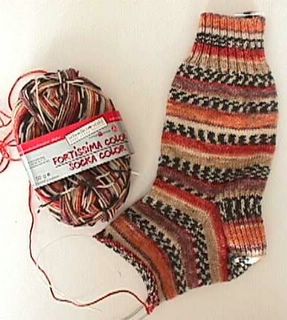 That's about all...now, I'm putting on my geek gear and heading into dangerous territory to do battle with my computer.

Now, if I could just remember where I put my sledgehammer?

Keep On Knitting...