I hope everyone had a safe and enjoyable long Easter weekend. A big thank you to all who have wished me healing thoughts. It really helps me feel better...to bad my skin doesn't see things the same way. [wink]
Me and mine were very busy, but in a good way, if that makes any sense. We did some cruising and picture taking of various spots about town...trying to take artsy, fartsy pics of what interests us. My husband took the following pics...they're quite interesting.
This pic is from steel town...


This next one was such a fluke that he caught the train just starting to amble its way across the bridge...I never knew he carried a horse around in his back pocket, if you know what I mean. Looks like a postcard.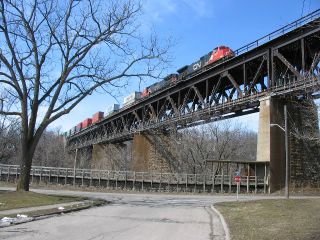 I always anticipate this as we enter into Paris on our way to Mary Maxim. I think it's such an awesome site.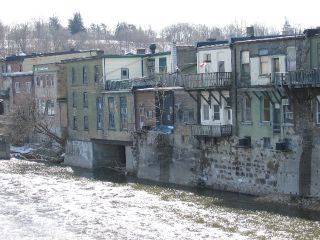 I took the next two. This one is actually two buses angled together with graffiti artistically spewed all over them.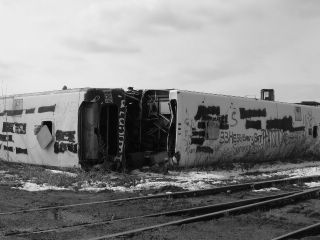 Last, but not least, is my attempt at an artistic shot...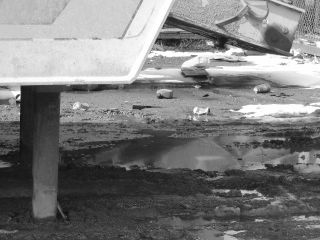 So, we made it to Mary Maxim on Saturday and I have to tell you that I literally spent about 5 minutes in the store. Pathetic, isn't it? Just as we walked in, they announced that for 15 minutes, anything you bought would be 15% off...well, what's a girl to do? I knew what I wanted, got it with a 15% discount and left.

This is what I bought. It is a 400g ball of Sirdar Yo-Yo yarn in the raspberry whirl colour [I wanted the purple haze, but they were out] that is supposed to be enough to make an adult sweater in the size range of 32-42 (Fin. 32 1/2-43 inches). I thought it looked interesting and reminds me of the Phil Onde. I took a pic of it next to a 50g ball of sock yarn for scale...




Now, I was also attacted to the free pattern I thought would be on the label of the Yo-Yo yarn and is being given away on the Mary Maxim online site with a purchase of said yarn. My label came with this pattern...




It's okay, but this is the pattern I really want...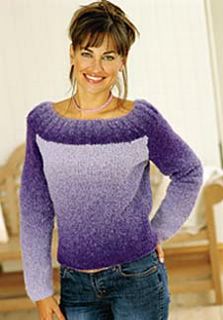 I wonder if I email them with a request for the pattern, if they would send it to me. I have the receipt...I guess it doesn't hurt to try. I'll keep you posted.

In other news, my wonderful, extraordinary, loving husband made me this gorgeous swift on Sunday. It is so beautiful and so smooth and works like a dream. My daughter loves to spin it round and sing, WEEEEEEE! The cheeky monkey.




I requested he make it for me because I finally ordered a ball winder from elann. I don't know why I waited so long to get one of these. It wound up a hank of Briggs & Little Regal in no time, and those are BIG hanks! Now I'm eagerly searching for any left over balls of yarn from previous projects so I can play with my winder.


Gross pics ahead of my excema!


Believe it or not, this isn't all that bad. It is currently painful, but at least it is only effecting three fingers and my wrist. I've had worse bouts. Just thought some of you may have a morbid curiousity [as do I] about, well, gross things. [snicker]