Christmas is behind us for another year and it's time to look forward to celebrating the coming of the new year. I hope everyone had a safe and enjoyable Christmas.
This morning, we took off early and headed for Toronto and Romni Wools for their boxing day sale. There is nothing like a sale of 25% off all in-store mechandise. I've had the jitters for days looking forward to this sale. We got there promptly at ten and the store was already flooded with shoppers. I'm just happy that under these kind of circumstances, everyone was gracious, helpful and enjoying their time hunting for their particular bargain.
This is what I came home with...
9 skeins of Philosopher's wool; 2 ply worsted weight in light green heather...
I know exactly which project this is going to be for. I'm not telling just yet, though.
I also bought one ball of Rowan Calmer...
This 50g ball is ridiculously priced at CDN$17.99. But, it was 25% off and I only wanted the one skein, so I decided to shell out the dough. This will be used to make Shedir from the fall Knitty surprise.
My last purchase was none other than more sock yarn. [hanging head in shame] Yeah, I know I have way too much already...but, I don't have many solid colours and well, ahem, well, I thought I should add some to my stash. They are pretty pastels to make my daughter some lacy socks.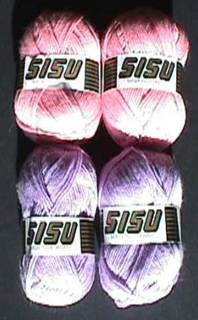 I did quite well, I think. I pretty much knew what I wanted and that is pretty much what I came home with.
In other news, I finished my felted slippers. The pattern is from the book; Knit One, Felt Too. Now, hubby wants a pair of felted clogs. I don't have the pattern and Romni didn't have it, so I'll have to buy a copy of the pattern online.
Now, I'm off to cast on my new project using the above mentioned Philosopher's wool.
Happy Knitting...