is frightful! Obviously, it won't be possible to go out in this to get my zipper for
Mariah
today. Hopefully, tomorrow will be better...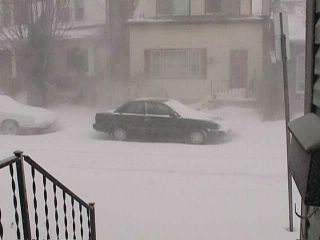 But, there are some of you and I won't mention any names, Minnie, that are impatient to see a pic of Mariah, even though my gut told me, as I said last night, that it would not be picture weather.

Even so, I have managed this poor photo for your viewing pleasure. I will post a better one after I manage to buy and sew in the zipper.




It is very large on me, but I like it and it's always nice to have an oversized sweater to cuddle in on days like these. I'll more than likely make myself another one in a smaller size though. The sleeves aren't as long as I thought they would be and I like how they are a little long anyway. No need to apologise Jodi. I'm usually pulling my sleeves down to cover my hands, anyway. [g]

Since I took the time to take a crummy pic of Mariah, I said to myself, "self, you might as well take a crummy photo of your mystery project, too." So, I present to you the newest project on my needles.




It is another Knitty pattern. I wonder who has the eagle eye this time.

This weather has also prompted me to make some socks. I'm finishing up what I call my "travel" socks...you know, the knitting that stays in the car. Well, I want these done so I'm finishing up the second sock. Just a basic sock pattern using Confetti sock yarn.




But, I also cast on for this sock because the colour is warm and I need warm right now. These are also just a basic sock pattern. I'm just letting the yarn do the work. [wink]




Stay toasty and Keep On Knitting...