Minus one molar.
I'm not impressed.
I was also told that I have about 20% bone loss in my teeth.
I'm really not impressed.
I will be going through four months of treatment, including one where I use a rinse that may turn my teeth brown to preserve my teeth for approximately another 20 years.
I will say it again, I'm not impressed.
All this is probably caused by my last pregnancy two years ago.
Was there anything good at all about my dentist visit?
No cavaties. No gum disease.
Enough about me. Here is some knitting news.
After a good cry about the above news, I was cheered up by my husband checking the mailbox and presenting me with the patterns I ordered from the
Knittingzone
, and
Ram Wools
that I talked about in my previous post.
The
Dipsy-Doodle U-Turn Scarf
really caught my knitting attention and I had to start on this immediately. I didn't have any hand-painted yarn, so I grabbed the next best thing that I have plenty of...sock yarn. So, armed with Paton's Kroy in Winter Eclipse and Muslin, I proceeded to cast on 300+ stitches.
Here is the progress I've made so far.
Now, I haven't forgotten about the Yo-Yo pullover, but I'll admit to being somewhat bored with it. Okay, I'm totally bored with it. I did finish the front and have almost finished the increases for the first sleeve. I've not been a total slacker with it. Here is some proof...
But, I've had to ward off the boredom somehow and knitter's are notorious for having many projects on the go because of this little obstacle. So, I also made one of these, a
book sweater
, last week.
Yes, I've read
A Shop on Blossom Street
and I will say that I was pleasantly pleased with the story, which surprised me. I'm actually looking forward to
A Good Yarn
. Another book I'll be keeping my eye open for is a new mystery
Knit One, Kill Two
by Maggie Sefton. I love mysteries, but have only devoted my reading time to
Dorothy Cannell
, lately [I'm a terrible reader as I read before bed and we all know what happens then...one paragraph and the eyes slam shut], so it'll be interesting if this will be a worthwhile read.
And I also started another pair of socks...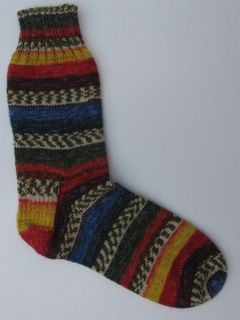 Whew!
And how was your week?
Keep On Knitting...