and kicking.
The scoop? My tooth pain suddenly went away last Saturday afternoon [which is a good thing because the earliest I'm able to see the dentist is May 26th] but, wonder of wonders, I've developed pink eye. [lmao] I reckon this is because of my allergies and swiping my eyes without a tissue. Can we say it all together now, ewwww, gross. To those inquiring about my health, many thanks! It helps keep the aggravation of all this at bay.
My MIL's eightieth birthday was wonderful and the cake was a success. Yes
Curlie Girl
I still went ahead a baked it myself. My MIL doesn't like chocolate cake, so I made this butter pecan, which is my favorite and is now a favorite to several other people. Unfortunately, it became a little smooshed from the three-hour car ride up.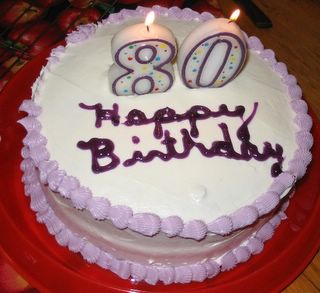 Now, on to knitting, which hasn't been very productive because putting drops in my eyes and slathering cream on my hands and popping pills has become my hobby of choice, but I have started the front of my Sirdar Yo-Yo pullover. Now, one good thing that has occurred is with working from a 400g ball of yarn from the outside isn't as horrendous as I thought it would be. As long as said ball is positioned in just the right way, unwinding from the outside isn't a problem at all. You may be wondering why I don't just work from the inside. Well, as per instructions, the back is worked using the yarn from the inside and the front from the outside; the same goes for the sleeves. This is Sirdar's solution to keeping the colours coordinated.
Here is the progress to date.
I don't want to speak to soon and jinx it as I still have the sleeves to go, but I'm pleased with how the colours are matching up.
I've updated the progress bars in my sidebar. I'm hoping to stay on track with the projects I've chosen because:
a) I have the yarn in my stash for these projects and
b) I really want to add a few books to my knitting library, namely the Barbara Walker Treasuries and a few others.
My knitting budget is my dictator though and I can either only buy yarn or only buy books. So, for the next few months I've decided to buy the books...before they go out of print and I'm kicking myself. There were also several patterns I took a fancy to from the
KnittingZone
, namely the
Dipsy-Doodle U-Turn Scarf
, the
Multi-Angle Modular Scarf
, the
Diamond Modular Scarf
and the
Butterfly Shawl
, so I decided to go ahead and order them now before our dollar decides to dip even more. I also ordered the
Garnstudio Drops 86
booklet from
Ram Wools
. There are some really lovely patterns in this booklet.
Well I'm off to put more drops in my eyes, knock back some antihistamines and take advantage of laying down while my daughter is napping.
Keep On Knitting...