See this shawl?



See these colours?
Opal-----------Wine------------Autumn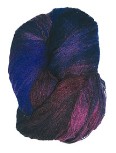 It's actually amazing that I have been able to narrow it down to 3 choices. I like the opal because it's my birthstone. I like the autumn because it's my favorite season. I like the wine because, well, I'm partial to anything purple or red.
I would like to thank
Curlie Girl
for this enticement to begin with. You see, she also wants to make the Lotus Blossom shawl and introduced me to its beauty and my present quandary [drooling on my keyboard must now stop before I get an electric shock], which is also her quandary, so I can sympathize [I really don't because she is trouble, enticing me with all her delectable bears and projects]. I'm wondering, have you chosen a colour yet,
Kim
? [g]
Now, in the poll box I've included the choice of "none of the above - go for a solid colour," which is definately an option. But, I just want to say that I have and will in the future make plenty of solid colour shawls and I may eventually make this shawl in a solid. For the time though, I'd like to make it in a multi-colour and I'm mainly asking for help in the multi colour group.
So, hence this poll for you knitters out there, because I know you all have impeccable taste.
Thanks for voting.
Keep On Knitting...