I cast on for yet another project.
Obviously, I have issues.
I couldn't help it, honestly. I really took a fancy to this
Top Down Raglan Shrug
, a free pattern from the
elann
site.
Thinking it had good possibilites of being made by moi and also thinking of the practical side of owning such a garment for the spring/summer months ahead, [uh huh, always the practical one] I decided to take a look at what colours the
Endless Summer Collection Connemara
had to offer and fell in love with the Cabernet, which has since
"sold out"
.
Now, when I bought the yarn for this specific pattern, I did as I always do and bought one extra ball. You know, "just in case." I'm such a good little knitter. So, when I, ahem,
glanced
through the pattern to find yarn amounts, the maximum requirement was 6, so I bought 7.
Easy Peasy.
I received my yarn last Thursday and being the compulsive person I am, I sat down that night and proceeded to actually read through the pattern, all ready to start this interesting design.
Well!
The designer doesn't give sizes except for S, M, L. This does not help me. From my experience a large size can mean a 32" chest fer cryin' out loud. She does however give you details on how to do the "math" [shudder] to create a size just for you.
Good grief.
So, off I went to prepare a pot of coffee, while fighting down the nausea and dry mouth that the thought of doing
"math"
brings and sat my hiney down to look like Einstein.
It was a poor imitation.
I did however, manage to come up with a number to cast on.
I do not remember how, when or why I came up with this number and nor do I care because it's working and if something's not broke, why fix it?
The only thing that did concern me was, did I have enough yarn? I was indeed making it larger than her large, yet smaller than her recommended number of stitches to cast on for an extra large.
Only time would tell.
Here is the little
scamp
shrug.
I went ahead and did the fringe and edging, etc...before starting the sleeves. The reason behind making it in this manner was that I didn't mind if the sleeves were on the short side if I did run out of yarn.
Now I'm playing sleeve hopscotch, knitting a repeat on one sleeve, then the other, so I will make them even before running out of yarn. I think I'll be fine and have 3/4" sleeves.
In other knitting horrors...
I had to rip back my Over the Knee sock. My row gauge was off by one stitch. I was getting 9 stitches to the inch and I needed 8. Normally, row gauge doesn't concern me and it really didn't this time either because I'm a short-ass and I thought that the sock would still be long enough.
Wrong.
Now, you know me and math. I wasn't in any mood to figure this out mathematically speaking, so I ripped back to the beginning and stuck in an extra lace motif.
Easy Peasy.
It fits lengthwise now and all other ways too and that's what matters.
I also have a serious crush. I mean, I'm head over heels in love.
With this.
Jordana Paige Knitter's Satchel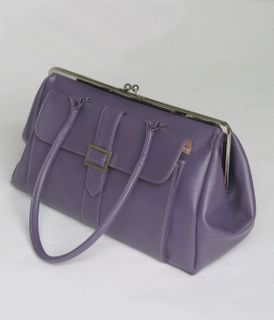 Yup, loving the grape colour. Must. Be. In. Grape. Colour.

I think this bag just may get some of those lingering UFO's completed. Don't ask me how I think this is the case, just humour me, okay?

Thanks for all the well wishes on our furnace. It was only the pilot light that was out, thank goodness. We have insurance on this sucker, so it didn't cost us anything to relight and the company we deal with really is fantastic about getting here quickly.

Haven't I been the chatterbox today?

Keep On Knitting...